---
Sometimes things doesn't go as planned. Now it seems to happened in a second time at next generation when Kuro and Akai decided to have puppies a little too early for our plans. Kuro's parents had done the same earlier as there was a plan to combine Hiutale and Tamatora but only later when all health examinations would have been done as required. (In Finland we have this PEVISA-program that gives regulations of necessary health exams and possible limiting values for them to improve breeds health - PEVISA isn't used for all breeds. For registrating puppies their parents health checks must be done before mating.)
Because Kuro and Akai didn't have their health checks done (and Akai was too young for official checks) their puppies was registrated on EJ (=not for breeding) -register. Boys can partisipate to shows and other events but cannot be used for breeding as their puppies won't get registration papers. Owner can apply transfer to normal register for his/hers dog after official health checks has been done. For our luck board of Finnish Kennel Club made a decision at November 2011 which gave us possibility to apply whole litter to FI-register because both of their parents had necessary health examinations done after litter was born.
So at 18th January 2012 there was a decision made at Finnish Kennel Club to transfer whole litter from EJ-register to FI-register. At the same time they decided to transfer Kuro and Akai to FI-register from ER-register. (ER-register is for example to dogs that don't have 3 generations of ancestors that has been registrated to FCI approved register or for dogs that has been newly taken to breed.)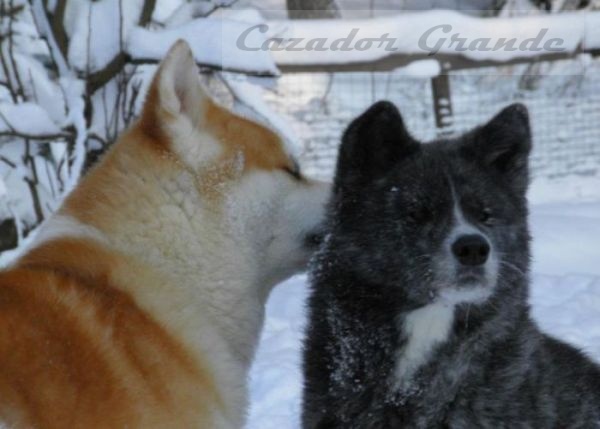 Akai & Kuro

After waiting that seemed so long Kuro started her delivery finally 19th Janyary 2011. First puppy was born at the evening (21.40). Firstborn was a red male puppy and after that there was another red male after 30 minutes between them. After that there was still 4 male puppies: brindle, third red, fourth red and second brindle. At some point Mirva was doubtful if she had checked their sex wrong since there was only boys coming. But Terhi reminded Mirva of basenji litter that had seven brothers. It would have been nice to get one girl on a litter but we are happy with these wonderful boys.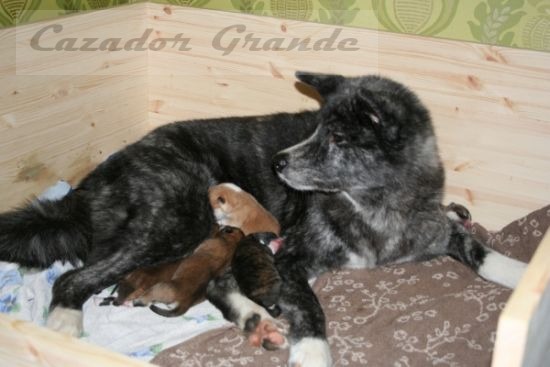 Caring mother with her offspring

Pedigree of the litter can be found from here. Puppies were growing with the tender care of their mother at Loppi. Living with Mirva's and Teppo's family they did get used to other dogs, cats and children. All boys moved to new loving homes during the give away weekend 19.-20.3.2011.
Until November 2013 four boys out of six did have some allergic reactions either from pollen, mites etc. or food substances. More specific information about them you can find from our health page HERE. That is why we have decided not to use any of Lago de Alce -litter boys at the moment to our breeding program.
Cazador Grande de Lince
1. red male "Legioonalainen" now "Lexa" approx. 21.40
Weight 20.1 11.00 462g
Allergies: several pollen, dust mites etc. - found 7/2012
Castrated 2/2013

Owner: Laura Raiskila

Lexa's pictures HERE.

Cazador Grande de Reno
2. red male "Honda" now "Hiro" approx. 22.10
Weight 20.1 11.00 453g

Owner: Maiju Ronkainen

Hiro's pictures HERE.

HeJW-11 Cazador Grande de Oso
3. brindle male "Sisu" approx. 23.25
Weight 20.1 11.00 464g
Food related allergies found spring 2013
Castrated 9/2016

Owner: Karin Nynäs-Aspö

Sisu's pictures HERE.

JV-11 Cazador Grande de Liebre
4. red male "Urho" now "Toru" approx. 01.05
Weight 20.1 11.00 410g
Castrated 2/2012
Atopy diagnosed 11/2013

Owner: Leila Pesonen

Toru's pictures HERE.

Cazador Grande de Alce
5. red male "Mustanaamio" now "Sparta" approx. 02.20
Weight 20.1 11.00 428g
Sinus dermoid found 12/2011 and operated 2/2012
Castrated 10/2013
Allergies (food related) diagnosed 10/2013

Owner: Terhi Luukkonen

Sparta's pictures HERE.

Cazador Grande de Lobo
6. brindle male "Zero" approx. 03.41
Weight 20.1 11.00 407g

Owner: Hermanni Aaltonen

Zero's pictures HERE.